Welcome to Union Springs, Al
Community Information WALKABLE & QUAINT

Union Springs is more vibrant than ever!  There is always something exciting to do or see in the region. 
Whether it is taking in a show, enjoying an outdoor festival, attending a community class, or simply hanging out and
enjoying Union Springs's unique culture. Union Springs itself is a quaint - quiet town where you can enjoy your
neighbors and a quiet evening rocking on the front porch --
if you wish. It is the people that make Union Springs special.  This is a place to work, live and call home. 
"Preserving the Past while Embracing our Future" is one of our favorite motos !   
Understanding local conditions in Union Springs is important when it comes to buying and selling real estate,our small community
is full of history and pride. We know its takes"special" people to live in small communities -and -- we invite you to check us out!  
We have two wonderful websites that will tease you with our small town assets. UNIONSPRINGS.NET or artatjosephine.com
When it's time to consider us , call me (334 703 0098) to get a representative who not only loves this community but lives here! 
Let me show our small town.  Experience will be on your side with me.  I have market knowledge, and confidence
in the Union Springs market which can help you make the best choice in this area.   
Joyce
email us at: promiseland@ustconline.net
 
CALL BEFORE TRAVELING LONG DISTANCES DUE TO COVID
HOURS VARY AT THIS TIME 2021
FOOD & LOCAL INTEREST
Josephine Arts Center (Ice Cream Shoppe/LOCAL Art Gallery & Museum ) 334-703-0098 appointment only
82 West  BBQ/Seafood 738- 8182 
Churches Chicken 738-3494
Subway - 738-3563
McDonalds - 738-5811
Hilltop Grill  738-3000
LosPortales - 738-8892
China Lin 738-2819
Dream Field Farms 334 534 6976
American Deli 334 738 3304
FPH (Bakery) 334 738 2017
SHOPPING
JOSEPHINE ARTS CENTER & MUSEUM (9/2009 initial start)
Art , Photography, Gifts, OLD FASHION ICE CREAM PARLOR, Local Interest 703-0098
MAINS DRUG STORE -- Gifts 738-2020
UNION SPRINGS PHARMACY 738 2320
GIBSONS HOME CENTER/ FURNITURE & GIFTS 738-4900
CITY SOPHISTICATE 334 750 2929
JUNES HIS & HERS   -- Gifts 738-2440
Recreation
YMCA  738-8520
MADE IN BULLOCK COUNTY (call for Tour information the 3 below)
To Your Health Sprounted Flour 334 584 7875 or 877 401 6837
Designs by Leigh (mixed media Art; pottery, gourds, woodworking) & Architectural Tours or Ghost Tours 334 703 0098
Bonnie Plant Farm 203-292-8820 or 203 610 2069
Helpful Resources

Union Springs Chamber of Commerce
   738-2424--
Tourism Council  738-8687  UNIONSPRINGSALABAMA.COM
Union Springs Library -- 738-2760
Union Springs City Hall - 738-2720
Utilities Board (Gas, Water, Gabage)  738-3115
Alabama Power (in town) 800-245-2244
Dixie Electric (outside City limits)  738-2500
Union Springs Telephone Company (phone, cable, internet)  738-4400
Union Springs Police Department - 738-3131
Bullock County Sheriffs Department - 738-2670
Fire Department  738-2121
Bullock County Hospital 738-2140
RCS Ambulance 738-4980
CRIMESTOPPERS  850-8537
School Information
Bullock County Board of Education  -
Superintendent   738-2860
Bullock County High School - 738-2198
South Highlands (Middle School) 738-2896
Union Springs Elementary School 738-738-2990
Conecuh Springs Christain School 738-4800
Bullock County Schools website: http://bullockcounty.schoolinsites.com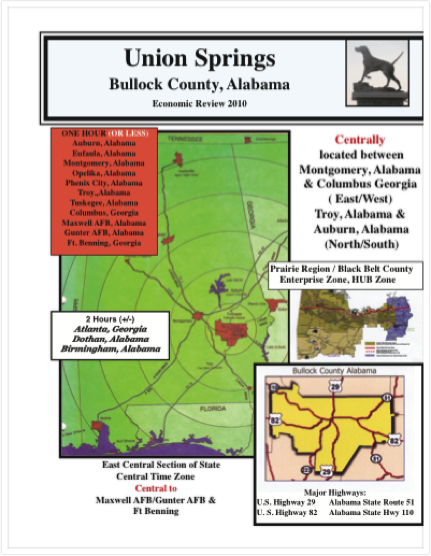 We Sell Bullock County to the World!
Victorian homes, Quaint Southern Town Alabama, Walkable, Historic, Central to Montgomery, Eufaula, Troy, Auburn, Opelika, Maxwell AFB, Ft Benning GA; Ghost: Hunting, Art. Tours
Other Websites of interest
about Union Springs